"Tarihle ilgili bildiğimiz her şeyin değişmesine sebep olacak." Daily Mail
"Medeniyetten ve her şeyden önce Göbekli Tepe vardı." Ian Hodder, Stamford Uni
"Burası insan aklının anlamakta zorlanacağı kadar olağanüstü" Steve Mithen, Reading Uni
"It has been considered a potential site for the Garden of Eden." Daily Mail UK
Göbeklitepe 1 Temmuz 2018 tarihinde, UNESCO tarafından Kültürel Miras Listesi'ne alındı. Bu listeye alınmadan önce bilitor muydunuz? İnternette aradınız mı? Ne buldunuz? Ve ben ne buldum?
Göbeklitepe was added to World Heritage List by UNESCO on the 1st of July, 2018. Why it is so important? Did you hear its name before adding to World Heritage? Did you search on it on the web? What did you find? And, what did I find?
Fertile Crescent On World Map
Nedenini bilmiyorum fakat Göbeklitepe'de beni kendine çeken bir şey var. Görev yaptığım şehirde bulunan bu bölge, bana kendisinin öyle keşfedilmiş sıradan bir yer olmadığı izlenimi veriyor. Yıllar boyunca bereketli hilal denilen bu topraklarda bilinen ilk uygarlıkların bulunduğu yer olması açısından önemlidir.
I don't know the reason why, but something attracts me in Göbeklitepe. It gives me the impression that it is not an ordinary place was found out. It is important first civilizations were founded in the Fertile Crescent.
İşin tuhaf yanı şu ki, bir süredir yaşamakta olduğum bu şehirde Göbeklitepe'yi görmem çok uzun zaman aldı. Çeşitli çalışmalar, Alman arkeolog Schmidt'in hayatının kaybetmesi, restorasyon çalışmaları derken geçen süreç, aranan müzeler, iletişime geçilen onca yerden sonra açıldığını couchsurfing ten şehre gelen bir arkadaştan duydum. Kabul edemiyorum hala bu durumu.
I couldn't see Göbeklitepe for half and a year long. Some excavations, the death of German archeologist Schmidt, restorations in it caused me to see it late than I expected. I heard the news about the visit of Göbeklitepe from a couchsurfing friend from Chile. It's so weird that you can't hear or read anything about the city where you live in it. It's not acceptable situation.
Ve giderken de bulamamanız da ya da yolu karıştırmanız mümkün olduğu gibi, navigasyonlar da sizi yanıltabilir. Tabelalar da yeterince açık değil özellikle her yerde Balıklıgöl tabelası görebilirsiniz fakat Göbeklitepe biraz daha az önemseniyor gibi bir izlenim verecek size. Özellikle bir Mardin tarafına doğru giderken bir kavşak varki oradan U dönmelisiniz Artı olarak, malesef şehirden sizi Göbeklitepe'ye götürecek bir belediye otobüsü bulunmamaktadır. Bu da size taksi ya da belli bir tur şirketi ile gitmeye itecektir.
You should be careful about the way to Göbeklitepe. Don't trust so much even to your GPRS, I know some friends had some problems to find Göbeklitepe because of GPRS. In addition to these problems, there is one more problem that you can not find any local minibus to go to there.
İngilterede şekil olarak benzettiğim ünlü Stonehenge'ten 7000 yıl öncesi ve Mısır'daki Piramit'lerden 7500 yıl öncesine ait yani bundan 12000 (12 bin) yıl öncesine M.Ö. 10.yy'a ait bir yapı. Bulunduğu dönem Çanak Çömleksiz Neolitik B dönemi olarak kayıtlara geçmektedir.
It's 7000 years older than the shape like Stoneheng and 7500 years older than Pyramids in Egypt. It means its date 12000 years back from now on. The year is 10th century B.C. The age is called Pre-Pottery Neolithic B.
NEDEN BU KADAR ÖNEMLİ // Why IT IS SO IMPORTANT ?
 Din kitaplarındaki varsayılan tarihten daha önceye ışık tutmaktadır. //
It dates back to the known histroy even in the history in the regious books.
2-) O dönemde bölgede veya bölgeye yakın yerlerde yerleşim yerinin olduğu ve çevresinde insana ait herhangi bir bulgu bulunmaması oldukça ilginç. //
There is one more interesting that there is no any human living place even any humanbeing ruins around the area.
3-) Tapınak olduğu biliniyor. It is known that Göbeklitepe is a temple.
4-) İnsanoğlunun önce yerleşik hayata geçtiği ve ardından tapınaklar yaptığı bilgisinin de aksine, Göbeklitepe bunun aksini bizlere sunmakta. // In opposite of the common knowledge about the humanbeings started to religious rituals before settling.
5-) There is an important figure in old monuments – Solar bird Deities
Eski önemli yapılarda Paskalya Adası, Mısır ve Göbeklitepe'deki Horus'un Gözü (Mısır mitolojisindeki Güneş ve Savaş Tanrısı)
6-) Bugün Göbeklitepe'ye gittiğinizde göreceğiniz 6 adet tapınak alanına ek ortaya çıkarılmamış 14 tane daha alanın daha olduğu, toplamda 20 tane yuvarlak şekilde küçük yuvarlak taş alan olduğu söyleniyor. // Göbeklitepe consists of 20 temples but just only 6 of them were unearthed.
7-) Yapının ne zaman yapılmaya başlandığı, ne kadar sürede yapıldığına dair net bir bilgi bulunmuyor. //
There is no clear information when the construction was done and it's construction duration.
😎 T harfi şeklinde olan bu 16 tonluk taşların üzerine yapılan hayvan figürleri bu büyük taşlar sabitlendikten sonra yapılmıştır. //
These famous T shape pillars were sculpted after completing their moving completed and their weight is up to 16 tons.
9-) Karacadağ'dan bölgeye taşınan yabani buydağın bu bölgeye geldiği ve bu kalıntılar tahılın ıslatılması, öğütülmesi ve fermantesinde kullanıldığını ortaya çıkardı. Bu, dini bayramlarda, kutlamalarda, belirli amaç için motivasyon olarak da kullanılan bira için 160 litrelik bir kapta bazı kalıntılar bulundu. Başka bir yazıtta ise ki bu Sümer yazıtı, en eski maaş çeklerinde bira ile ödeme yapıldığı söyleniyor.
The first wild wheat is transfered from Karacadağ -between Diyarbakır and Urfa– to Göbeklitepe. The first fermation of cereal to beer was done in the region. It was a kind of motivation to work much more and also in rites and celebrations. Cheers! 🍻
** Uzakdoğu tarafında bir saçının arkasında bulunuyor. Bu benzerlik de ayrı bir detay.
10-) Bu Göbeklitepe'deki sütunlar tam olarak doğu-batı yönünde dikilmişlerdi, yani 21 Mart'ta ya da 23 Eylül'de (ekinoks zamanlarında), Güneş tam bu sütunlarla hizalanıyordu. Güneş'in doğuşu ya da batışı, yılın diğer zamanlarında tapınaktaki diğer 12 sütunla eşleşiyordu. //
These Göbekliepe pillars were constructed in the direction of East – West. In the equinox times (21th of March and 23th of September) the Sun allignes in these pillars. In the other times of the year, these pillars were alligning to other twelve ones.
Tapınaktaki 12 sütun, bir yıldaki 12 ayı temsil ediyor, sütunlar üzerindeki figürler ise hangi ayda olunduğunu, gökyüzüyle ilişiklendiriyordu. Eski Türklerin "12 hayvanlı takvimi" buradan gelmiş olabilir mi? Peki ya 12 sayısının pek çok dindeki ve inanıştaki önemi? //
source: timothystephany.com/gobekli.html
You will see 12 pillars in the temple, they symbolizes 12 months in a year and the figures in the pillars tells which month it is. It's all about the sky. Is the ancient Turkish calendar with twelve animals coming from these pillars? Did you notice the number "12" in some religion and beliefs. What is the importance of it?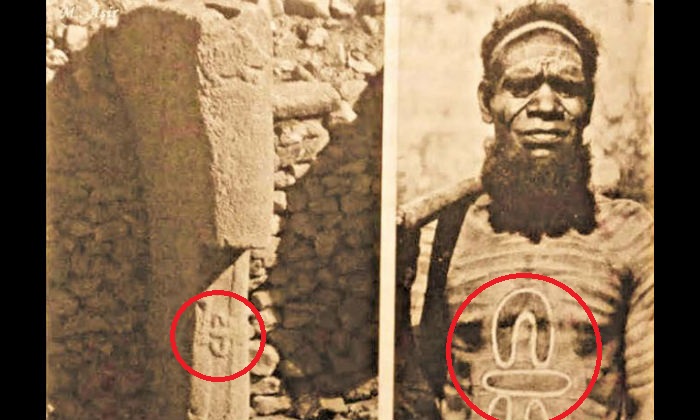 ***
Göbeklitepe'de sütunlarda bulunan bu sembol, Avustralya yerlileri aborjinlerin geleneksel kıyafetlerindeki simgeyle benzerlik göstermektedir. //
The figure in T shape pillars symbol has a resemble with the traditional dress of natives – Aborijins- in Australia.
Göbeklitepe'nin döneminin insanının mı yaptığı yoksa uzaylıların mı yaptığına dair net bir bilgi yok. Bu konuda varsayımlar olsa da çeşitli varsayımlar tezlerini savunan videolar bile video paylaşım sitelerinde bulunmaktalar.
**** Bu sembolin güneş tutulmasını da uzaygemisinin geldiğini de ifade eden farklı görüşler de bulunmakta.
There are two different thoughts about eclipse of the sun and spaceships attending.
There is no clear information whether Göbeklitepe was consturcted by people or aliens. In this subject, there are some different videos on video sharing websites to support their thesis.
VE son olarak, en son Göbeklitepe'nin gömülüp neden terkedildiği henüz bilinmiyor. And, Noone knows why Göbeklitepe was embed and abondened.
Bonus, Göbeklitepe bulunduktan sonra Şanlıurfa üzerinde yapılan araştırmalarda Göbeklitepe'nin kardeşi olarak ifade edilen Karahan Tepe'de kazı çalışmalarına başlandı. Ve buna benzer birkaç tepe daha bulunmakt ama bilinçsizlik nedeniyle tahrip edilmiş.
Bonus, The sister of Göbeklitepe was found in the sands of Şanlıurfa province where Göbeklitepe locates in. Archeological excavations were started short time ago. It's not only the one but it is the most big and important one, most of the rest were destroyed by unconscious people. Karahan Tepe is not one of them, and excavations were started a short time ago.
saricanta
This slideshow requires JavaScript.
Resources
*80skiparty.com/ …fancy-images-of-the-fertile-crescent-the-greatest-true-story-ever-told-toker-s-den-images-of-the-fertile-crescent.jpg
**https://encrypted-tbn0.gstatic.com/images?q=tbn:ANd9GcQavqiD6I8m_88gqjPXCgFQjtFcGL74xAtv2luiCRsJja6di57L8g
***theepochtimes.com/assets/uploads/2017/11/12/Symbol.jpg
****human-resonance.org/gobekli_tepe9.jpgg